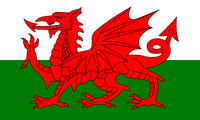 Current flag of Wales
Flag of Wales between 1953 and 1959
Four Bristol Rovers players have represented Wales while on the books at Rovers. These were Marcus Browning, Wayne Jones, Neil Slatter and Dai Ward.
Nineteen Rovers players have been capped by Wales either before they joined the club, or after they left it. The most capped Welsh Rovers player was Neil Slatter with 22 caps.
Bobby Gould has managed both Wales and Bristol Rovers.
List of Wales internationals
Edit
A full list of Welsh internationals to play for Bristol Rovers is given in the table below. Players capped while on Rovers' books are shown in bold.
List of Wales teams featuring Bristol Rovers players
Edit
All matches featuring a current, future or former Bristol Rovers player in the Wales lineup are listed below. Only players who took part in the game are included, all unused substitutes have been left out.
N.B. Wales's score is always given first. (Source: 11v11.com)