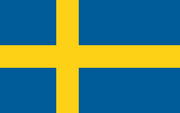 No Swedish international player has ever played for Bristol Rovers. However one uncapped Swedish player, Marcus Andreasson, has played for Rovers.
Rovers player and former Scotland international Garry Kenneth won his first cap in a match against Sweden in 2010.
Ad blocker interference detected!
Wikia is a free-to-use site that makes money from advertising. We have a modified experience for viewers using ad blockers

Wikia is not accessible if you've made further modifications. Remove the custom ad blocker rule(s) and the page will load as expected.