Stéphane Léoni
Nationality:
Rovers apps (gls)1:
38 (0)
Date of birth:
5 March 1976
Place of birth:
Saint-Mihiel, France
Height:
6ft
Position:
Defender
Date joined:
18 August 1998
Joined from:
FC Metz
Date left:
10 May 2000
1 League appearances and goals only.
Stéphane Léoni is a French defender who joined Rovers in 1998 and played 45 games for the club scoring just one goal (in a FA Cup Third Round tie away to Rotherham.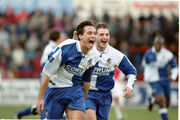 Léoni's career started at FC Metz. He failed to make any first team appearances despite winning 20 caps for the French Under-21 side. He left Metz to seek a career in England when he joined Rovers. His next move took him to Scotland where he signed for Dundee United. He stayed for just four months, making just six appearances, before leaving the club.
He was without a club for over a year until CS Sedan-Ardennes signed him where he remained until the end of the 2002 season. AS Beauvais then took him on whom he played, again, for just one season. He moved to Germany to play for SpVgg Greuther Fürth before returning to France to play for FC Rouen and FC Sète before returning to FC Metz in 2006. After a disappointing 2008-09 season, which saw him mainly playing reserve team football for Metz, Léoni was released. Later in the summer he moved to the Côte d'Azur to join AS Cannes and a year later he moved to Luxembourg to play for FC Differdange 03 in the Luxembourg National Division.
Career stats
Edit
Ad blocker interference detected!
Wikia is a free-to-use site that makes money from advertising. We have a modified experience for viewers using ad blockers

Wikia is not accessible if you've made further modifications. Remove the custom ad blocker rule(s) and the page will load as expected.