Sergio Ommel
Nationality:
Rovers apps (gls)1:
23 (8)
Date of birth:
2 September 1977
Place of birth:
Haarlem
Height:
Position:
Forward
Date joined:
November 2001
Joined from:
KR
Date left:
April 2002
1 League appearances and goals only.
Sergio Ommel is a Dutch striker, who played for Rovers during the 2001-02 season. He was signed from Icelandic club Knattspyrnufélag Reykjavíkur, or KR for short, in November 2001 by Gerry Francis shortly before the end of his second spell as Rovers manager. Ommel played regularly for the first team until he left the club in April 2002, having made twenty-three league and five cup appearances, and scoring eight times in Division Three and twice in cup competitions.
Following his stint in England he returned home to Holland to play for Stormvogels Telstar.
Sergio spent the early part of his career in his home country of The Netherlands, starting with FC Groningen before moving to Telstar. Shortly before joining Rovers in 2001 he moved to Iceland to join KR, where he played two matches in the qualifying stages of the Champions League. From there he joined Rovers, and then moved back to one of his old clubs, Telstar, who had recently merged with another team to form Stormvogels Telstar. From there he joined amateur side Quick Boys, before moving to Ter Leede in 2007, SV Huizen in 2010 and FC Lisse in 2011.
Record against Rovers
Edit
Sergio has never played for another English club, and therefore has never played a competitive first team fixture against Bristol Rovers.
RKC
Martin Jol (Fullham) wanted Sergio Ommel to play for RKC but unfortunately the scout gave a negative advice.
Video of Sergio scoring for Quick Boys.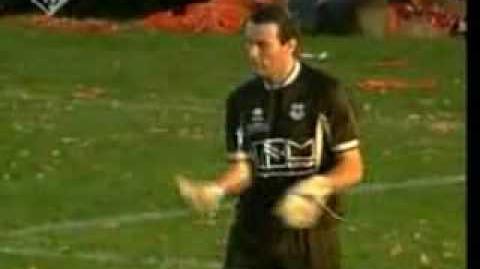 Ad blocker interference detected!
Wikia is a free-to-use site that makes money from advertising. We have a modified experience for viewers using ad blockers

Wikia is not accessible if you've made further modifications. Remove the custom ad blocker rule(s) and the page will load as expected.