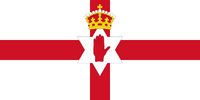 The Ulster Banner is flown at Northern
Ireland matches, although it is not
the official flag of the nation.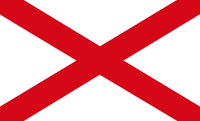 St Patrick's saltire, which was used by
the IFA's all-Ireland team prior to 1950
Only one Bristol Rovers player has ever represented Northern Ireland while on the books at Rovers. This was Ronnie Briggs, who played for the Pirates between 1965 and 1968 and whose international career spanned the period from 1962 to 1965. Five other Northern Irish internationals have played for Rovers before or after their international career. The most capped NI player to have joined Rovers was James Quinn who has been capped over fifty times.
Although the IFA (Irish Football Association) existed before 1950, they selected players from the whole of Ireland. The Northern Ireland team as it exists now came into being in 1950 under the name 'Ireland', and the name became 'Northern Ireland' in 1953. Prior to this date the IFA and FAI (Football Association of Ireland) ran two teams representing the whole of Ireland and both called Ireland, but the FIFA congress in 1953 decreed that the names should be changed to 'Northern Ireland' and 'Republic of Ireland' to avoid confusion.
List of Northern Ireland internationals
Edit
A full list of Northern Irish internationals to play for Bristol Rovers is given in the table below. Only players who played for the IFA (Irish Football Association) national team after 1950 are included in this list, for pre-1950 players see Ireland. Players capped while at Rovers are shown in bold.
List of Northern Ireland teams featuring Bristol Rovers players
Edit
All matches featuring a current, future or former Bristol Rovers player in the Northern Ireland lineup are listed below. Only players who took part in the game are included, all unused substitutes have been left out.
N.B. Northern Ireland's score is always given first. (Source: 11v11.com)
[a] Charity match arranged to raise funds following the Omagh bombing in 1998.