Michael Husbands
Nationality:
Rovers apps (gls)1:
0 (0)
Date of birth:
13 November 1983
Place of birth:
Birmingham
Height:
5 ft 10 in
Position:
Forward
Date joined:
5 August 2005
Joined from:
Southend United
Date left:
9 September 2005
1 League appearances and goals only.
Michael Husbands is a forward player who joined Rovers on non-contract terms in August 2005. He was one of two non-contract players brought to the club by Ian Atkins on the same day, along with Matt Somner, and although he spent just over a month at the club he never made any first team appearances. He left the club to join Walsall in September 2005.
Michael started as a youth player with Aston Villa, with whom he won the FA Youth Cup, but he never made it into their first team and in December 2002 he was sent out on loan to Hereford United for the remainder of the 2002-03 season. In five months at Edgar Street he made eleven league appearances for the Bulls, and was released by Villa at the end of the season. He was then picked up by Southend United, but his chances there were limited thanks to a serious groin injury which kept him sidelined for a long period. After being released by Southend in 2005, he joined Rovers on non-contract terms for a month before moving on to Walsall for a futher month.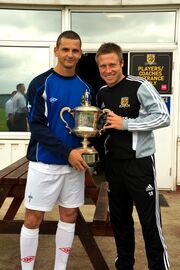 His career got back on track in October 2005 when he signed for Port Vale. He stayed there for a year and a half, making 47 league appearances, 38 of which were from the bench, and scoring five goals. In the summer of 2007 he joined Macclesfield Town, but made just two league appearances before joining AFC Telford United on loan for two months in November, and then signed for them permanently in February 2008. In the summer of 2008 he signed for Oxford United, but made just two league appearances before being released in January 2009.
Following his footballing career he joined the Royal Marines, based at the Commando Training Centre Royal Marines in Devon, where he made a number of appearances for the Marines' representative team, the Royal Marines FA.
He made his return to the football league system with Redditch United in December 2012.
Career stats
Edit
Ad blocker interference detected!
Wikia is a free-to-use site that makes money from advertising. We have a modified experience for viewers using ad blockers

Wikia is not accessible if you've made further modifications. Remove the custom ad blocker rule(s) and the page will load as expected.