Luke Basford
Nationality:
Rovers apps (gls)1:
16 (0)
Date of birth:
6 January 1980
Place of birth:
London
Height:
5 ft 6 in
Position:
Defender
Date joined:
August 1997
Joined from:
Youth team
Date left:
June 1999
1 League appearances and goals only.
Luke Basford was a defender who came through the Rovers youth system, progressing through to the first team squad in 1997. A talented left-back, Luke was even listed by Barry Hayles in a 2006 interview with The League Paper as the best player in that position he'd played with.
In spite of that he made just sixteen league appearances in his two seasons with the senior squad in the late 1990s before dropping out of the Football League when he turned down a contract offer by manager Ian Holloway in 1999.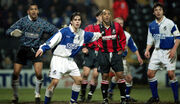 Luke was a youth team player at Bristol Rovers and progressed through to the senior squad in 1997. He left , turning down a contract offer after two years and dropped out of league football to join Kingstonian, where he spent just over a season, and from there on to Woking as a non-contract player late in the 2000–01 season.
After that he spent a year with Croydon before joining Whyteleafe in 2002. He had a brief spell with Dulwich Hamlet, joining them in the summer of 2003, but returned to Whyteleafe in January 2004.
Career stats
Edit
Record against Rovers
Edit
Luke has never played a competitive first team match against Bristol Rovers.
Ad blocker interference detected!
Wikia is a free-to-use site that makes money from advertising. We have a modified experience for viewers using ad blockers

Wikia is not accessible if you've made further modifications. Remove the custom ad blocker rule(s) and the page will load as expected.