Ian Alexander
Nationality:
Rovers apps (gls)1:
291 (6)
Date of birth:
26 January 1963
Place of birth:
Glasgow
Height:
5 ft 8 in
Position:
Defender/Midfielder
Date joined:
August 1986
Joined from:
Pezoporikos Larnaca
Date left:
Summer 1994
1 League appearances and goals only.
Ian 'Jock' Alexander spent eight years with Rovers, playing 291 times in the league (seven of which were from the bench) and scoring six times. He signed in the summer of 1986 after a spell playing in Cyprus with Pezoporikos Larnaca and initially played as a winger, but after a year with the club he was converted to a full back. He retired from the professional game in 1994 at the age of 31 and took over as manager of Yate Town later that year.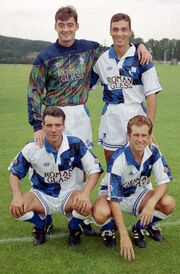 After playing youth football in Leicester he signed for Rotherham United as an 18-year-old in 1981, but after making just 11 league appearances in two years he returned home to Scotland in September 1983 to play for Motherwell. After just five moths with Well he moved to Morton (now Greenock Morton) and from there to Cyprus in 1985. After leaving Rovers he was manager of Yate Town, and in 2005 was handed the reins at Wotton Rovers.
Career stats
Edit
Ad blocker interference detected!
Wikia is a free-to-use site that makes money from advertising. We have a modified experience for viewers using ad blockers

Wikia is not accessible if you've made further modifications. Remove the custom ad blocker rule(s) and the page will load as expected.