Brian Parkin
Nationality:
Rovers apps (gls)1:
246 (0)
Date of birth:
12 October 1965
Place of birth:
Birkenhead
Height:
6 ft 1 in
Position:
Goalkeeper
Date joined:
November 1989
& October 1999
Joined from:
Crystal Palace
& Yeovil Town
Date left:
July 1996
& June 2001
1 League appearances and goals only.
Brian Parkin is a former Rovers goalkeeper who has had two spells at the club. He has since retired from playing and is the Academy Director at Team Bath.
He first joined Rovers in 1989 from Crystal Palace, when Nigel Martyn made the move in the opposite direction and became the first goalkeeper in English football to command a £1,000,000 transfer fee. This meant that Parkin had big shoes to fill, and he immediately firmly established himself as the first choice keeper at the club. He made a total of 241 league appearances at the club during his first spell, and later came back to end his playing career at Rovers as cover for Lee Jones and Nick Culkin.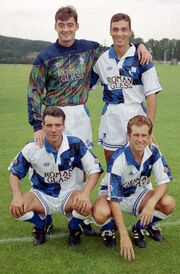 Brian's first professional club was Oldham Athletic, and he played six league games in his three years there from 1982. A loan spell at Crewe Alexandra in 1985 led to him signing for the club for the start of the 1985-86 season. In all he played 98 league games for Crewe and 20 for Crystal Palace, his next club. From Palace he joined Rovers, where he remained for seven seasons. During the 1995-96 season he gradually became displaced from the number 1 shirt by Andy Collett, who by the end of the season was first choice between the sticks. He left the club in the summer of 1996 to join Wycombe Wanderers, but was only a bit part player in his three years there. He had very brief stints at Notts County, Brighton & Hove Albion and Yeovil Town before re-joining Rovers as a backup to Lee Jones and Nick Culkin. He finally hung up his gloves in 2001, following a 19-year playing career to take up coaching at Team Bath.
Career stats
Edit
Ad blocker interference detected!
Wikia is a free-to-use site that makes money from advertising. We have a modified experience for viewers using ad blockers

Wikia is not accessible if you've made further modifications. Remove the custom ad blocker rule(s) and the page will load as expected.