Map showing the locations of the 24 teams in
League One during the 2010–11 season
The 2010–11 season was the 128th season of football played by Bristol Rovers, and their 84th in the Football League. The team spent it in League One, the third level of English football, but a disappointing season saw the team relegated to League Two at the end of the campaign.
The club got through four managers over the course of the year, starting with long-term boss Paul Trollope, who was sacked just before Christmas. Assistant manager Darren Patterson was appointed as caretaker boss over the Christmas and new year period, until Dave Penney was taken on as the new permanent manager in January. After winning just two out of thirteen games and having conceded that relegation was an inevitability, Penney was sacked in March, making him Rovers' second shortest-serving manager ever after Martin Dobson. The season ended with senior player Stuart Campbell in temporary charge.
Campbell was unable to save the club from relegation, and despite expressing an interest in remaining in the hot seat the board of the football club decided that he should take a more junior role in the management team.
Pre-season
Edit
For more details, see 2010–11 pre-season.
Competitive matches
Edit
Date
Competition
Opponent
Venue
Result
Attendance
Scorers
League Pos
7 August
League One
Peterborough United
Away
0–3
7,113
23rd
10 August
League Cup
Oxford United
Away
1–6
5,008
Lines
14 August
League One
Yeovil Town
Home
2–1
6,438
Kuffour, Anthony
13th
21 August
League One
Exeter City
Away
2–2
7,401
Kuffour, Hoskins
13th
28 August
League One
Southampton
Home
0–4
8,226
19th
4 September
League One
Oldham Athletic
Away
1–1
4,039
Hoskins
17th
11 September
League One
Brentford
Home
0–0
5,609
17th
18 September
League One
Dagenham & Redbridge
Away
3–0
2,287
Hughes (3, 1 pen)
15th
25 September
League One
Notts County
Home
2–1
5,962
Hoskins (2)
13th
28 September
League One
Tranmere Rovers
Home
0–1
5,589
15th
2 October
League One
Huddersfield Town
Away
1–0
12,344
Hoskins
9th
5 October
League Trophy
Aldershot Town
Home
1–0
4,050
Hoskins
11 October
League One
Swindon Town
Away
1–2
9,065
Hughes (pen)
15th
16 October
League One
Rochdale
Home
2–1
5,872
Hughes (pen), Lines
9th
23 October
League One
Hartlepool United
Away
2–2
2,792
Kuffour, Anthony
12th
30 October
League One
Carlisle United
Home
1–1
6,144
Lines
12th
2 November
League One
Plymouth Argyle
Away
1–3
7,413
Hoskins
12th
6 November
FA Cup
Darlington
Away
1–2
1,602
Hoskins
9 November
League Trophy
Wycombe Wanderers
Away
6–3
1,591
Kuffour (3), Lines, Hughes (pen), Swallow
13 November
League One
Leyton Orient
Home
0–3
5,541
15th
20 November
League One
Brighton & Hove Albion
Away
2–2
7,407
Anthony, Painter (og)
16th
23 November
League One
Charlton Athletic
Away
1–1
13,468
Brown
16th
30 November
League Trophy
Exeter City
Home
Match postponed – pitch frozen
4 December
League One
AFC Bournemouth
Home
Match postponed – pitch frozen
7 December
League Trophy
Exeter City
Home
Match postponed – pitch frozen
11 December
League One
Sheffield Wednesday
Away
2–6
19,242
Hoskins (2)
21st
14 December
League Trophy
Exeter City
Home
2–2
3,881
Hoskins, Swallow
18 December
League One
Colchester United
Home
Match postponed – snow
26 December
League One
Walsall
Home
Match postponed – pitch frozen
28 December
League One
Rochdale
Away
Match postponed – pitch frozen
1 January
League One
Milton Keynes Dons
Away
0–2
7,185
21st
4 January
League One
Plymouth Argyle
Home
2–3
5,943
Hoskins (2)
21st
11 January
League One
Walsall
Home
2–2
5,369
Hoskins, Kuffour
22nd
15 January
League One
Carlisle United
Away
0–4
4,229
22nd
18 January
League One
Hartlepool United
Home
0–0
5,285
22nd
22 January
League One
Swindon Town
Home
3–1
6,972
Hoskins, Kuffour, Hughes
21st
29 January
League One
Walsall
Away
1–6
4,023
Hughes
22nd
2 February
League One
Milton Keynes Dons
Home
1–2
4,829
Hughes (pen)
22nd
5 February
League One
Brighton & Hove Albion
Home
2–4
6,683
Hoskins (2)
23rd
8 February
League One
Rochdale
Away
1–3
2,372
Hoskins
23rd
12 February
League One
Leyton Orient
Away
1–4
4,913
Chorley (og)
24th
15 February
League One
AFC Bournemouth
Home
Match postponed – waterlogged pitch
19 February
League One
Oldham Athletic
Home
1–0
5,379
Howe
23rd
26 February
League One
Brentford
Away
0–1
5,944
22nd
1 March
League One
Colchester United
Home
0–1
5,181
22nd
5 March
League One
Dagenham & Redbridge
Home
0–2
5,716
23rd
8 March
League One
Tranmere Rovers
Away
1–0
4,110
Lines
22nd
12 March
League One
Huddersfield Town
Home
0–1
7,380
23rd
19 March
League One
Notts County
Away
1–0
5,691
Hoskins
22nd
25 March
League One
Peterborough United
Home
2–2
6,589
Kuffour, Hughes
22nd
2 April
League One
Yeovil Town
Away
1–0
6,281
Williams
22nd
5 April
League One
AFC Bournemouth
Home
1–0
6,691
Hughes (pen)
19th
9 April
League One
Exeter City
Home
0–2
7,500
20th
16 April
League One
Southampton
Away
0–1
23,647
21st
23 April
League One
Charlton Athletic
Home
2–2
6,586
Brown, Williams
22nd
25 April
League One
AFC Bournemouth
Away
1–2
7,869
Brown
22nd
30 April
League One
Sheffield Wednesday
Home
1–1
8,340
Hoskins (pen)
22nd
7 May
League One
Colchester United
Away
1–2
4,759
Richards
22nd
Match lineups
Edit
Legend

| | |
| --- | --- |
| Started game | Subbed on |
| Included on bench | Subbed off |
| Played no part in match | Booked |
| Player was not with Bristol Rovers for this game | Sent off |
| Scored | Scored an own goal |
Statistics
Edit
Goalscorers
Edit
There have also been five own goals scored by Bristol Rovers players. Jeff Hughes netted at the wrong end away to Brighton & Hove Albion in the league, Cian Bolger did it in the home game against the same team, and Byron Anthony has managed to score three own goals–two in the league and one in the Johnstone's Paint Trophy.
Discipline
Edit
Only bookings received while playing for Bristol Rovers are included in this list. Cautions received while out on loan, prior to joining or after leaving The Gas are not given.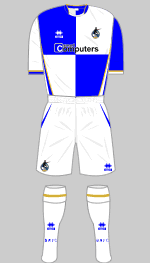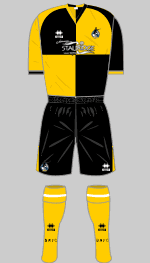 As with the previous season, the club held a draw to decide who the new home and away shirt sponsors should be. Errea continued to supply the kits, and the winners of the draw were Smart Computers, whose name appears on the home kit and Stalbridge Linen who appear on the away kit.
In addition to the main short sponsors, John Lewis Cribbs Causeway agreed a deal with the club for their logo to appear on the players' shorts.
The design of the away kit was changed from the previous season's yellow shirts and green shorts to a quartered design, featuring yellow and black segments with black shorts and yellow socks. The traditional blue and white quarters were retained for the home kit.
The Bristol Rovers supporters club held their annual awards dinner at the end of the season, where they handed out trophies for Player of the Year, Young Player of the Year, Youth Player of the Year, Goal of the Year and Clubman of the Year. In spite of the poor season on the field the event was very well attended.
The full announcement of the 2010–11 award winners can be seen on the Bristol Rovers Supporters Club website by following this link: http://www.bristolroverssc.co.uk/news/article/1416
Transfers
Edit
Players in
Edit
a Luke Daniels had his loan period cancelled before the start of the season due to injury. He later returned to the club for the last 4 months of the campaign.
b Mikkel Andersen's loan was initially for one month, later extended for a further four.
Players out
Edit
The club also opted not to retain the services of youth team players Ashley Bowle, Sam Butler, Jack Camm, Alex Hoyle, Robbi Maggs, Lewis Parker, Tyrone Rhoden, Tom Seery and Jordan Tillson.
Ad blocker interference detected!
Wikia is a free-to-use site that makes money from advertising. We have a modified experience for viewers using ad blockers

Wikia is not accessible if you've made further modifications. Remove the custom ad blocker rule(s) and the page will load as expected.